LAST WEEK FOR YEARBOOK SALES - ends 1/25/19
Pre-order your yearbook to ensure that you get one! Prices will increase at the end of the year, so order early!
To order, click HERE, log in, go to "My Account" then "My Forms/Paperwork" and "2018-2019 Yearbook."
5th Grade Parents - Don't forget to buy your Yearbook Legacy Ad!
Please make sure that your PTA account is up to date and accurate with your child being listed as being in 5th grade.
If you have a 5th grader and cannot see the legacy ad form in your account, please email president@millsparkpta.com.
Volunteers
Please reach out to yearbooks@millsparkpta.com if you can help with taking pictures, creative layouts, graphics, or helping to design the legacy ads!
---
Operation Captain Underpants!
Attention parents: Sometimes at school there are accidents!
We are in need of NEW and UNOPENED packages of boys and girls underpants.
Also needed are small gender neutral socks!
If you would like to donate to Operation Captain Underpants, please drop off the packages to our front Desk or the Counselor's Office!
(But all child sizes are great!)
---
Save the Date for our annual Spring Carnival!
Saturday, April 6th from 3:30 to 6:30
This year's theme will be 'Let's Play' to celebrate our upcoming new playground equipment!
If you are interested in helping out, Please RSVP for the kick-off planning meeting, and forward to any friends you think may be interested in helping out.
Note the meeting date has been changed to Monday January 28th from 7:30-9:00 PM.
If you are unable to attend the kick-off, but still interested in helping out, please just write a note in your response.
---
Nourishing Noggins Seeking Donors & Volunteer Groups To Fill Bags!
Throughout the school year, the Nourishing Noggins program provides MPE students
with bags of nutritious food to take home each weekend, as well as boxes of food and hygiene items to
take home over the winter and summer breaks.
We are looking for volunteers to take on the weekly food bag preparation through the end of the school year. We are looking for individuals or various groups (Girls/Boy Scouts, Y! Guides, sports teams, etc.) to buy/donate and pack food for one week. The Nourishing Noggins program will cover the cost of remaining food items if your group cannot donate all the items that go into the weekly bags of if you've signed up as a individual, reiumburse you for the groceries you purchase for the food bags (groceries cost < $150). More info and sign-ups are HERE.
Thanks you for your support! Questions?
Please reach out to the program managers
---
Our numbers show that many families have not relinked their grocery accounts this year.
Please link your grocery accounts if you haven't done so yet, and earn free $$$ for MPE!
Link your Harris Teeter Vic Card HERE or at checkout in store. The MPE school code is 7135. Vic Cards need to be re-linked every year.
Log into or sign up for a Publix.com account, select MPE, then enter your phone number at checkout.
---
---
Save the Date!
Spirit Night at Panera Bread - Parkside Town Commons
Friday Feb. 1st from 4-8 PM
---
Kindergarten Registration Information for 2019-2020 School Year
Kindergarten Registration is happening NOW! If you know anyone with a child ready for Kindergarten, please direct them to the Mills Park Elementary website for information about our registration process. Thank you!
---
The Mills Park Middle School (MPMS) PTSA would like to share the following message with
Parents of Rising 6th Graders attending MPMS:
We would like to welcome you to the Mills Park Middle School family, where we have a tradition of excellence supported by the wonderful parents of the PTSA! We encourage you to be involved in the school and partner with the faculty, staff, and other parents to provide quality educational opportunities for your children.
Please visit our website to learn more about the role of the PTSA, and subscribe to our weekly newsletters to keep abreast of upcoming events and important announcements. In addition, we are looking for folks who want to be actively involved and serve in one of the many open positions on the PTSA Board for 2019-20. If you want to jump right in, please contact our Nominating Committee, Cathy Salois and Jen Middleton, and they will help match your skills and interest with our PTSA needs.
---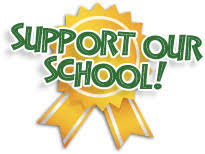 Please consider helping your school community and becoming a PTA member - it just takes $15!
All you have to do is:
Click on 'My Account'
Choose 'My Forms/Paperwork'
Click on '2018-2019 MPE PTA Membership Form'
The money from PTA memberships will go directly to getting bigger and better inflatables for the kids favorite end-of-the-school-year event - Field Day!
---
Help protect your children - and their classmates - when they're under the weather, so that they can return to the classroom healthy and ready to learn!
Guidelines for Staying Home When Sick:
The best thing you can do is keep your children home when sick. This will help stop the spread of illness to other children and teachers. Keep them home when they show any of these symptoms:
fever of 100 degrees F or higher

vomiting, nausea and/or diarrhea

headache and chills

red, watery eyes with yellow drainage

sore throat

lack of appetite

fatigue
REMINDERS:
Children should stay home until they have been naturally without fever for at least 24 hours

Please do not give children fever-reducing medication and then send them to school
---
Box Tops are exchanged for free money for the school! Your kids collected have collected almost 5000 box tops this school year and brought in over $500!
Print out this list of products where you can find Box Tops, and encourage your kids to keep collecting!
You can also print out this sheet where they can keep track of what they collect.
There is a pink lego box tops bin at the MPE front entrance (see pic above) where they can drop the Box Tops off!
Follow us on Twitter
Donate directly to MPE and support our programs and activities - Log in, Click on My Account, and then Direct Donation Form. Be sure to find out about employee matching!
EASY WAYS TO MAKE A DIFFERENCE
Link your Harris Teeter Vic Card HERE or at checkout in store. The MPE school code is 7135. Vic Cards need to be re-linked every year.
Click HERE to link or apply for a card, and link it to our school.
Provide the MPE school ID at checkout (70218769) and MPE will receive 5% back in credits for FREE supplies! Details HERE.
Log into or sign up for a Publix.com account, select MPE, then enter your phone number at checkout.
When you shop at smile.amazon.com (not Amazon.com), on the top black bar, towards the center, click on the orange 'Supporting:'link, and search for/select Mills Park Elementary PTA. Amazon will donate a portion of the purchase price to the school. This works at WholeFoods too!